With 2018 coming to a close, brands and organizations around the country are shifting their focus to 2019. Rapidly changing customer demands have left many marketing teams scrambling to capitalize on every advantage, while also making sure they can deliver the experiences customers want; convenience, flexibility, and affordability. For marketers, that's where blockchain comes in.
What Is Blockchain?
If you're not a mathematics or computer science Ph.D., the specifics of blockchain will be challenging to follow. But that's okay – just about anyone can grasp the basics.
Put simply; blockchain is a digital record of ownership that cannot be altered or modified.
Whenever ownership or possession of something is transferred, both parties leave a sort of encrypted digital signature in the blockchain, like signing a ledger, that is verifiable by every other user in the world and cannot be altered or modified. So, why should marketers care about blockchain? Campbell R. Harvey and Christine Moorman at Harvard Business Review examine a few good reasons.
Blockchain Will Make Email Marketing More Effective
"Fraud verification via blockchain will also help verify the origin and methodology of marketers," as HBR explains. *135 billion spam emails are sent every day, making up approximately 48% of all emails sent. Varying in sophistication, this tidal wave of fraudulent and unwanted emails has led to catch-all spam filters that dilute the effectiveness of email marketing for everyone.
But with blockchain, brands and marketers can verify their authenticity with an extremely small microtransaction (thousandths of a cent), thus proving their identity and eliminating the need for overreaching spam filters. And this will make email a more effective part of a multichannel engagement strategy for marketers everywhere.
Blockchain Will Make Real Marketing Revenue Attribution Possible
"By using blockchain technology to track their ads, marketing teams can retain control over their automation practices, ensure that marketing spend is focused on ROI-generating activities, and directly measure the impact of marketing down to a per-user, per-mail matric," HBR predicts. And that has real upshot for marketers.
"By tying user behavior and micropayments together, blockchain could solve the attribution problem that has bedeviled marketers for decades."
Indeed, given that blockchain works by keeping a record of a sort of transactional handshake, it could present the ultimate answer to attribution – a granular, user-by-user record of every single interaction of every single customer with your brand. That's powerful marketing revenue attribution and opens up a world of possibilities into ROI accountability and analysis.
Blockchain Will Offer Better Customer Experiences by Making Personalization More Effective
Unlike credit card companies who charge a 3 percent fee to process payments, blockchain enables nearly zero-cost transactions. As a result, blockchain eliminates the need for "minimum purchases" to ensure profitability for brands. And marketers can use that to boost the effectiveness of personalized customer experiences and loyalty programs.
As HBR explains, "Blockchain could allow merchants to use micropayments to motivate consumers to share personal information – directly, without going through an intermediary [like paying Facebook or Google]." This means that brands can offer their customers a small reward for, say, allowing location tracking on their app, or even just opening the app for a minute at a time. "During that time, they push deals and special offers to the user. Indeed, user-tailored deals open a legitimate mechanism to deliver personalized prices that are a function of the consumer's profile."
With blockchain, marketers can deliver the granular personalization that not only builds brand loyalty but delivers superior customer experiences.
Summary
Blockchain is more than just the latest buzzword. It's a technological revolution, and the shortcuts to efficiency, security, and personalization. What it offers marketers are a big reason why brands will be leveraging it more in 2019. From customer experiences to email conversion rates, blockchain has a lot to offer marketing teams.
*Referenced source: The Statistics Portal
---
Why NVISION?
NVISION® is a marketing execution company helping Fortune 1000 organizations optimize their marketing supply chain process. We provide the expertise to simplify the creation, procurement, fulfillment, distribution and ongoing account management for customers' printed marketing materials.
With nearly 100 years of supply chain management expertise in streamlining operations, leveraging buying power and creating innovative solutions, we reduce cost and increase speed-to-market. NVISION provides dedicated experts that understand clients' brand standards, internal processes, deadlines, and distribution needs.
We manage every step of the process to deliver marketing operations – simplified.
See how NVISION can help your business | Let's start a conversation about your complimentary assessment!
With blockchain, brands and marketers can prove their identity and eliminate the need for overreaching spam filters.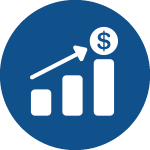 By using blockchain technology, marketers can retain visibility to ROI accountability and measure the marketing impact down to a per-user metric.
With blockchain, marketers can deliver the granular personalization that not only builds brand loyalty but delivers superior customer experiences.