As the world changes, so does customer behavior. And as customer behavior changes, the ways they want to shop do, too. And perhaps no industry needs to remain more on top of shifting customer trends and behaviors than retail.
Retail, which has already been turned upside-down by the advent of e-commerce, now must adapt to whatever 2019 has in store. With U.S. retail sales up 5.9% in 2018 from a record mark of $5.7 trillion in 2017, retail brands will need to stay sharp to keep growing. According to Daphne Leprince-Ringuet of WIRED, here are some key trends retailers should consider when looking towards the future.
Sustainability Will Be Important to Shoppers
From "hippies" to countercultural "hipsters," environmental responsibility and sustainability have always been important to certain shopping demographics in society. But in 2019, ecological sustainability will become a major selling point for brands and retailers looking to see a little more "green" themselves. Leprince-Ringuet cites the example of British luxury fashion brand Elvis & Kresse, which reclaims thousands of tons of out-of-service fire hoses in London each year, repurposing and recycling the hose leather to create new premium goods.
"We live in the age of the circular economy, recycling materials instead of letting them go to waste at the end of their life," Leprince-Ringuet says. "It's [already] an upcoming trend in retail." Brands that can position themselves as environmentally sustainable could bolster their profits, too.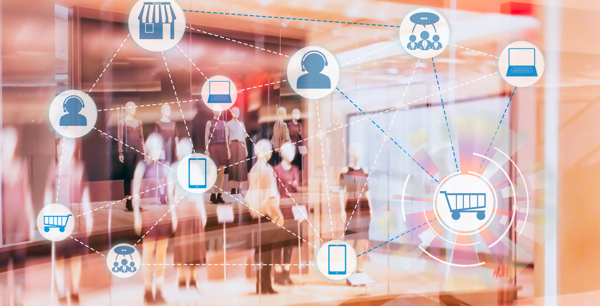 Removing Friction with Strategic Partnerships
With competition stiffer than it's ever been, and most markets increasingly saturated with choices, brands will need to continue to compete on the strength of their customer experiences – not just on price and product. In fact, a recent PwC study found that consumers will spend an average of 16% more for a better retail customer experience. And that may mean exploring new strategic partnerships for many brands. "Everything we do needs to be done for the customer, to remove friction – whether that means integrating Google Pay, or working with [partners] to develop technologies we don't have the capacity to work on ourselves," says Cliff Cohen, Chief Information Officer at ASOS.
What other sorts of "frictionless" experiences will customers expect?
"Invisible" payment. Look at Uber. With payment linked directly to customers' credit cards, users never even think about paying for their ride. It's taken care of automatically. And that removes part of the friction that makes Uber so attractive compared to, say, going to an ATM and calling a taxi.
Multichannel experiences. Today, customers expect brands to recall the entire history of that shopper's interaction with them and be able to offer them promotions, coupons, and suggestions based on that personal history. And if your brand can't do this today? Partner with someone who can. Citing one retailer's strategic CX goals, Leprince-Ringuet says, "The technology is beyond the retailer's technical capacity, so the company has teamed up with [a strategic partner] – all with the goal of making the customer experience better."
Third-party payment. Not unlike "invisible" payment, millennial consumers are increasingly comfortable storing their payment information with a third-party and allowing that third party to provide that information when they "pay" for things, like Mint and Apple Wallet. This functionality can help make your brand stand out from the crowd.
Physical Stores Becoming Experience Centers with Innovation
With the online purchasing process faster by-and-large than in-store for many brands these days, brick-and-mortar stores are shifting to effectively occupy a new role: experience centers, where customers can touch, try, taste, and be tempted by your products in person. "Future retail is moving from transactional to relational," says Emilie Colker, Executive Director at IDEO. "Brands will use the offline space to create more opportunities for people to connect with the products."
For many brands that were once digital-only, like by-mail eyeglasses retailer Warby Parker or online mattress retailer Casper, creating physical spaces for shoppers to interact with their products adds authenticity to their brand's perception, and is a clever way to create customer experiences that they just can't replicate online. And to succeed with experience centers, retailers need to be agile, flexible, and ready to innovate. "In the current climate, speed matters," says Kerry Liu, CEO of Rubikloud. "Tools that can give retailers insight into inventories, financial forecasts, technological skill," anything that helps create a single point of visibility into marketing supply chains will be tremendously helpful.
*****
Yes, retail is changing.
But by understanding the most important retail trends before they happen, and by establishing partnerships that prepare your brand for success, companies of all sizes can make 2019 their most successful year yet.
Why NVISION?
For more than three decades we've partnered with Fortune 500 companies to deliver marketing operations solutions. Led by a strategic account management team, we'll help you develop, procure, fulfill and distribute printed collateral, signage, point-of-purchase displays, direct mail, branded merchandise and much more.
LEARN MORE